ConveyMEDICAL
The ConveyMED mobile app allows providers to stay current and earn credits from anywhere at anytime.
Background
ConveyMED is a next-generation podcast platform built for professional education. The Memphis-born and based company delivers quality, educational content from providers such as professional associations, medical centers, and independent podcasters through a mobile application. 
The idea of the company's application first came to one of the co-founders, Mike Donoghue, during his early career as a physical therapist. To meet his annual education requirements, he had to devote long hours and travel to conferences each year. He wanted to stay current on clinical practices but figured there had to be a better way: one that didn't take him away from his family and his patients.
Just a few years later, Mike identified the "better way" during his tenure as the SVP of Global Marketing for the Orthopedic division of Smith & Nephew. He took note of the success of the company's online continuing education programs for sales representatives. Around this time, Mike synced up with local healthcare executive Chris West.
Being longtime podcast listeners, Mike and Chris realized they could bring the ease and engagement of this audio format to professional continuing education. The mission of ConveyMED is to elevate podcasting as a medium for professional education as it is a more convenient way to earn annual mandatory credit hours.
The Challenge
The first phase of ConveyMED's project focused on delivering CME credits to physicians through podcasts created by medical societies and associations.
Each year, physicians are required to earn CME hours, the quantity of which is determined by the individual state boards. Earning these credit hours requires travel to in-person conferences and expos or sifting through disparate audio platforms and offerings from numerous medical associations. Once the COVID-19 pandemic hit, the need to avoid in-person events became even more critical.
ConveyMED wanted to provide an accessible way for physicians to engage with this content, earn CME hours from anywhere, and learn on the go. It was also important for users to be able to segment content by associations, specialties, or areas of interest for a better experience.
Partnerships with associations and societies were also key to the success of ConveyMED. Instead of competing with these organizations, ConveyMED provides a distribution channel that can reach the young, mobile native professional who prefers to engage in content in this manner. They create distance learning strategies, manage all aspects of recording and editing, and publish finished episodes to the association's channel. 
ConveyMED also wanted to provide an advertising platform for companies seeking to reach a targeted, motivated professional audience.
ConveyMED connected with Memphis-based interactive agency, Lokion through a referral.
Bringing the Convenience of Podcasting to Professional Education
The ConveyMED application allows users to search and browse the content, listen to free content, and purchase single episodes or bundles to earn credits. It includes an administrative interface so associations and their partners can upload and manage podcast content. The user-centric mobile application also delivers ads related to the interests of the users.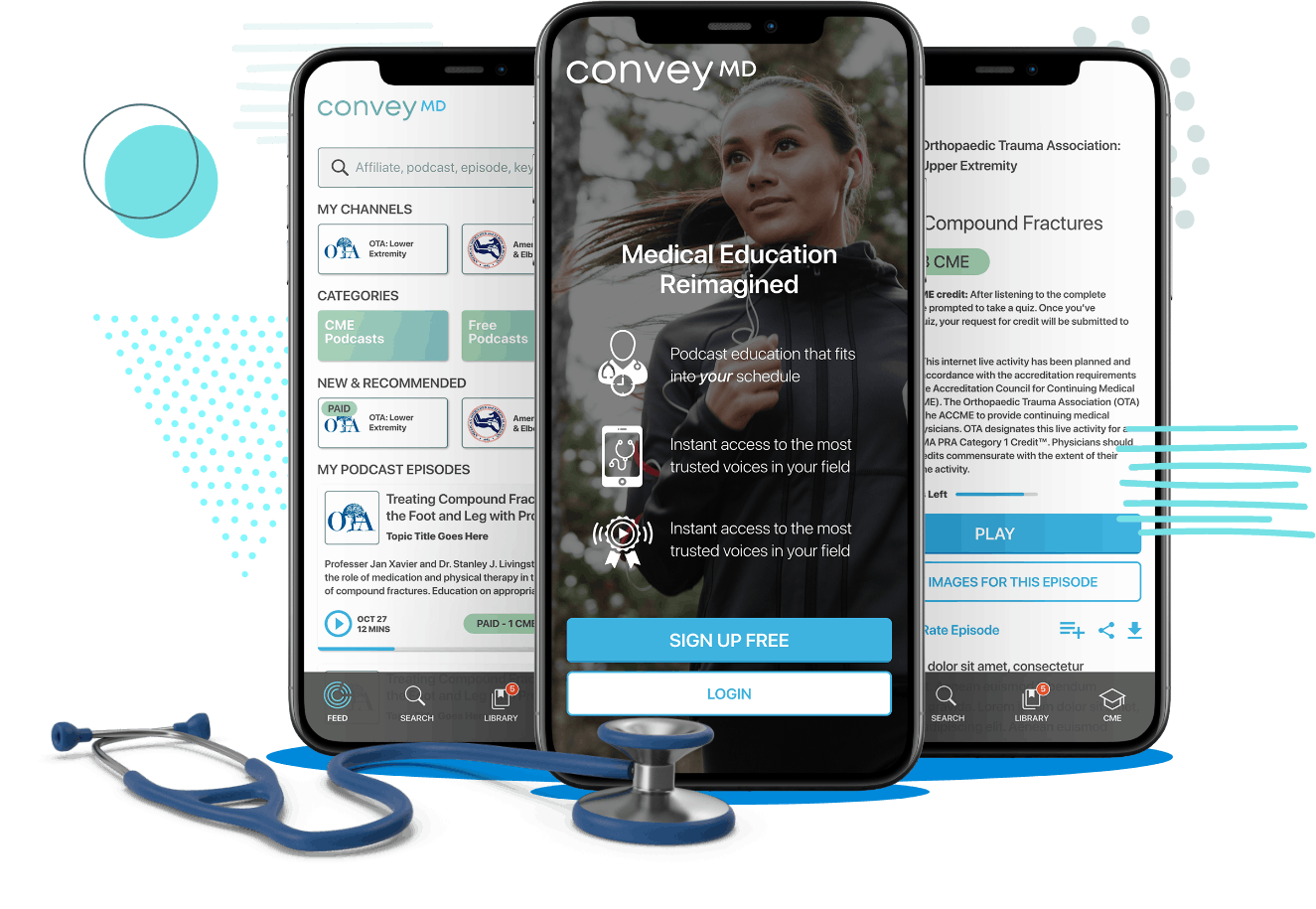 The Solution
Lokion supported the project from discovery to development and delivery. One of the key requirements was to develop the application through native code. The ConveyMED executive team and investors wanted to know they could adapt the product as the company grew. Lokion leveraged project-level collaboration to develop the application through iterative planning, regular demos, and shared tools.
The team used Xamarin to develop the ConveyMED application and .Net Core, Knockout JS, and Bootstrap on the backend.
The Results
The decision to launch ConveyMED in 2020 ended up being fortuitous for the organization and its users. Conferences were out of the question for medical providers due to the COVID-19 pandemic. The ConveyMED app allowed providers to say current on clinical practices and industry developments in a safe environment.
Podcasting has long been underutilized in professional education. Most applications are not fit for purpose for continuing education of licensed professionals. ConveyMED has differentiated itself in the market through its compliance, a platform that meets users where they are, and engaging content from leading sources.