Viking Range
For more than 10 years, Lokion provided strategic guidance & implementation for Viking's commerce solutions.
A pioneer in ultra-premium appliances for the home, Viking Range was an early adopter of online systems, and first enlisted Lokion in 2001 to improve its distributor extranet. This was the start of a relationship that led to greatly improved business processes, unparalleled customer experiences, and outstanding growth in sales.
B2B/B2C Commerce
Viking entered the B2C commerce market early to maintain a conversation with customers beyond their few showrooms. Viking's then-current systems could not support complex relationships through both retail partners and directly with end consumers, so Lokion worked with Viking Marketing and IT on a comprehensive strategy and platform selection.
Using Oracle ATG, Lokion designed, developed, and deployed an industry-leading website for Viking's target audience of cooking enthusiasts. Conversion rates doubled almost overnight, then doubled again when Lokion further refined the site design. Soon after launch, a Viking customer survey showed that nearly 70% of all Viking customers visited VikingRange.com prior to purchase, and it received top ranking in the Luxury Institute's annual online customer experience report. Adapted for mobile and extended with new engagement features, it became an evolving focal point for the company's business strategy.
In the following years, Lokion launched six more B2B and B2C sites, as well as a dealer kiosk system—all on the same ATG instance. This approach ensured Viking's success in a critical area of customer experience: consistency of information. For the first time, Viking maintained a "single source for the truth," an extensive library for Viking products including CAD drawings, specifications, and manuals for use and care, plus lifestyle content and a catalog of over 15,000 SKUs.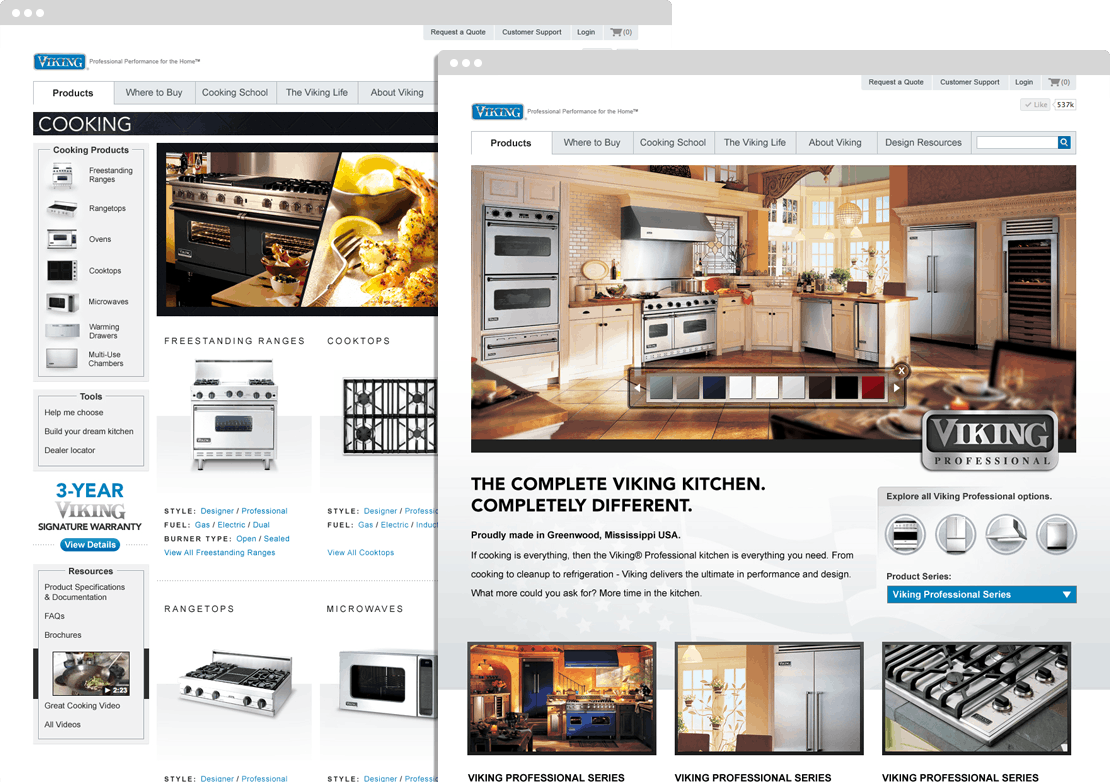 Simplified Quote Requests
As with other luxury good producers, the key to Viking's sales cycle is aspiration. The company's high-end customers wanted to design a dream kitchen and receive a price quote. Lokion developed "request-a-quote" features for Viking websites and kiosks where customers and dealers can choose finishes, options, accessories, and add-ons. The orders undergo an automated, multi-step pricing process that involves the ERP and tailored price lists associated with the particular dealer. Quotes can be accessed online and also populate a CRM for follow-up and sales performance tracking.
Social Media Strategy
As businesses began to feel the impact of vocal customers on social media, Lokion's user experience team worked with Viking to develop a strategy for reputation monitoring, listening, and customer engagement. We analyzed over 7,500 of the most impactful social media mentions and recommended ways to cultivate brand advocates, engage fans and critics, boost sales and conversion rates, and integrate social listening into customer experience strategy.