Varsity Spirit, Inc.
Lokion created a unified family of websites powered by Salesforce.com
The Challenge
A Fragmented Brand Experience
Each of Varsity's 20+ brands was running its own website. This resulted in inconsistent navigation and design, along with the headache of managing updates on many different platforms. Varsity already knew its customers browsed across brands, so they wanted a consistent experience that still honored the unique personality of each offering. Varsity's recent investment in SalesForce.com also presented the opportunity to get a better picture of customer activity across sites and products.
Consistent, Accessible Design
Thanks to the new responsive web design, Varsity's on-the-go customer base has better access to events and competitions on their mobile devices, and Varsity is poised to gain insight into customer behavior through Salesforce.com. The organization is moving into the next phase of improvement with increased efficiency and confidence in Agile methodologies.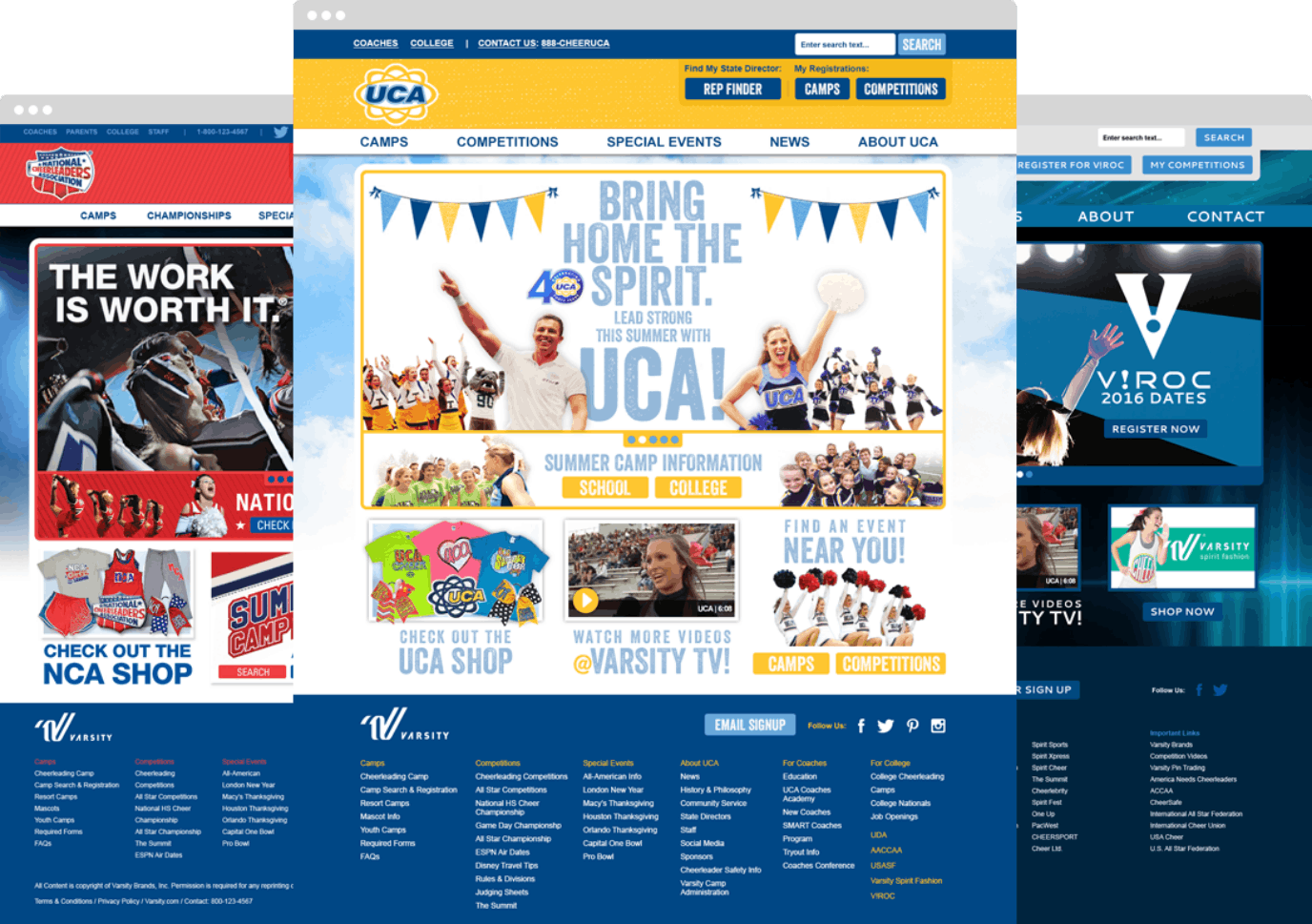 The Solution
Iterative Improvement
Lokion applies lean methods to many projects, and it made sense to roll out high-priority enhancements to Varsity's online registration process while working on the longer-term redesign of registration and the brand sites. The new, responsive sites feature a unified registration design for a consistent user experience across all Varsity products. Lokion implemented all sites in the Salesforce CMS platform Site.com, which allows integration with SalesForce.com object data.
Varsity also has relied on Lokion to instill the Agile approach in the organization's project's. Lokion provided consulting from a certified scrum master to keep teams at Varsity focused and moving forward in a pure Agile format and to mentor new internal scrum masters.